About Auto Armour
Auto Armour is part of Exclusive Car Care, founded by Justin Lawrence. Justin has worked within the detailing and car care industry for almost twenty years.
Auto Armour was established with the fundamental aim of providing an alternative to the overwhelming number of sub-standard paint protection film installs being carried out in the UK.
Despite the large number of companies now offering paint protection film, we pride ourselves in having the knowledge, endless patience and passion for installing film to the highest standards. We pride ourselves on the fit and finish of our work, ensuring alignment is perfect, and going the extra mile to ensure the PPF on your car is as close to invisible as possible.
Expertise
We have 6 years of experience in the installation of PPF and consistently research new techniques & processes.
Certifications
As a company, we have gained professional training and certification from the worlds leading PPF manufactures – SunTek & Xpel.
Secure Facilities
Our facility is fully alarmed and with CCTV to ensure ultimate security for your vehicle. All vehicles are stored inside the unit overnight.
Fully Insured
We are insured for £2 million public liability & indemnity, £100k road risks (for collection & delivery) & up to £250k items worked upon
Honesty & Integrity
We're open and honest about what we do. We'd rather a difference to you than make a quick quid for ourselves.
Professional & Discreet
We work to the highest standard in a professional manner whilst maintaining a strictly confidential, personal and friendly service.
Our PPF Installation Studio
Our Paint Protection Film Studio is conveniently located a couple of minutes from junction 16 of the M4. This makes us easily accessible if you're looking for paint protection film in Wiltshire, Bristol, South Gloucestershire, Bath & North East Somerset and throughout the South West of England.
We are just a few minutes away from both Westbury and Chippenham train stations which also offer easy links to London Paddington, Cardiff, Portsmouth and Weymouth.
With excellent road and mainline rail links nearby, arranging to drop off and collect your vehicle couldn't be easier.
We have carefully considered the layout of our studio, which includes:
daylight balanced lighting system
heat & air conditioning to ensure optimum installation conditions
scissor lifts to allow us to raise a car, ensuring no awkward areas are overlooked
swisstrax flooring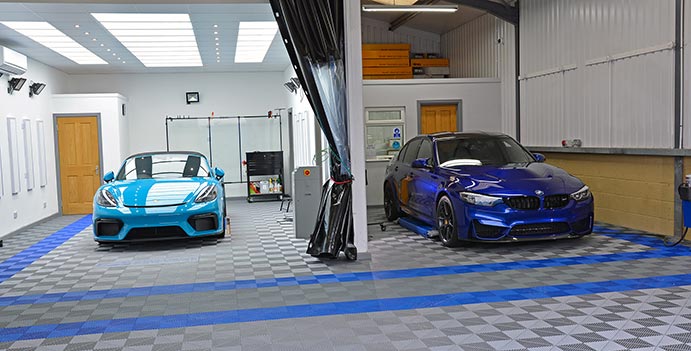 What Our Customers Say
"Justin has worked his magic on 3 of my cars to date, his quality of work and attention to detail are second to none, repeat business to any company shows that you do something right, Justin responds to enquiries promptly and professionally and goes out of his way to be available for both delivering and collecting the car, I will most definitely be using his services again in the very near future. The 40 mile round trip is well worth the trouble, I couldn't rate Exclusive Car Care highly enough."
Stuart Coles
- McLaren MP-12C Spider
"Spent a long time researching where to take my car and despite the journey from London, decided Exclusive Car Care was the best option. The decision was fully vindicated, Picked the car up today and Justin has done a brilliant job. I would have no hesitation in recommending them."
Michael Griffin
- Porsche 718 Cayman
"After my previous car picked up stone chips I wanted to give my new car the best start in life with a professional detail and paint protection film. I scoured the Internet and came across Justin's website. He had excellent feedback from car enthusiasts forums and reviews on Google so I thought I'd give him a try – I'm so glad I did. The service was excellent from start to finish – he took the time to discuss the various options available and was honest if he didn't think something was worth the extra cost. I am extremely fussy about my vehicles and a perfectionist and Justin is just the same!"
Stephen Goodyear
- BMW 330i
"Justin has detailed two of my cars now, and on each occasion, he's worked on them he's demonstrated utmost professionalism and quality. I've never had any doubts or concerns about leaving my cars with him, and have been more than happy with the results every time."
Darren Coleman
- Ferrari 458 Italia
"Brilliant service and excellent advice. Did a brilliant new car detail on my Alfa 4c, added paint protection film to some exposed carbon chassis areas, and great advice on how to maintain the results. Super impressed!"
Alan Stan Baldwin
- Alfa Romeo 4C